Rutile oneshots belong to a manga magazine published by
Gentosha Comics
:
Rutile Sweet.



Come On, Spring


(Haru Yo, Koi)
by Fujisawa Yui
Gentosha Comics | Rutile Sweet | 2011
Romance (Boys Love), Slice of Life
(themes/keywords)

One year ago, Kotaro moved to Tokyo to follow his dream of becoming a beautician. A visit from an old school friend, Kii, reminds him of the day he left his hometown.
Release: [ May. 19. 13. ] Download | PDF
Project Notes:
N/A
Scanlators in Other Languages:
{ SPANISH } – Sweet Yaoi Fansub
{ VIETNAMESE } – [C]apricorns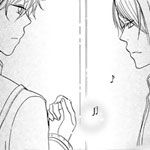 The Light That You Create
(Kimi no Kanaderu Hikari)
by Hami
Gentosha Comics | Rutile Sweet | 2011
Supernatural, School Life, Romance (Boys Love), Drama
ghost, piano, music room

There's a rumour going round Yuki's school about a ghost who inhabits the old music room. One day, while playing the piano in the music room, Yuki is approached by that ghost…
Part 1 Release: [ Jan. 16. 13. ] Download | PDF | MediaFire
Part 2 Release: [ Jun. 02. 13. ] Download | PDF
Project Notes:
N/A
Scanlators in Other Languages:
{ FRENCH } – Black Butterfly
{ ITALIAN } – Scarlet Night Scans
{ SPANISH } – Sweet Yaoi Fansub
{ VIETNAMESE } – [C]apricorns