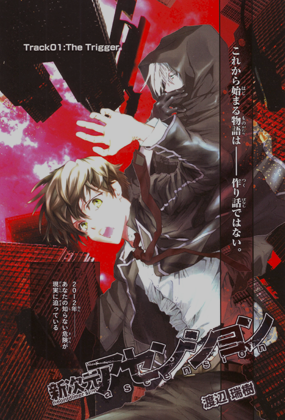 Neon Dimension Ascension
新次元アセンション
by Watanabe Mizuki
Media Factory | Comic Gene | 2012
Science Fiction, Mystery, Psychological
missing people, mysterious deaths
There is a rumour going around about a CD called "Trigger" that can supposedly increase the intelligence of its listener. However, the CD has also been connected to several deaths and disappearances. Chitose's best friend Hayato listens to the CD, and not long after, Hayato and his whole family suddenly disappear. Refusing to believe that Hayato is gone forever, Chitose becomes determined to find his best friend and the truth behind the CDs.
A JOINT PROJECT WITH HUFFLY PARFAIT SCANS
RELEASES:
Volume 1 Extras  [ Mon. Dd. Yy ] – Download | PDF | MediaFire
Track 5: The Solar Flare [ Mon. Dd. Yy ] – Download | PDF | MediaFire
Track 6: Spontaneous Human Combustion [ Mon. Dd. Yy ] – Download | PDF | MediaFire
Track 7: The HAARP [ Mon. Dd. Yy ] – Download | PDF | MediaFire
Track 8: The Illuminati [ Mon. Dd. Yy ] – Download | PDF | MediaFire
Volume 2 Extras [ Mon. Dd. Yy ] – Download | PDF | MediaFire
Track 8.5:  Youthful Days [ Mon. Dd. Yy ] – Download | PDF | MediaFire
PROJECT NOTES:
Joint with Huffly Parfait Scans starts with chapter 2 onwards
IN OTHER LANGUAGES:
{ FRENCH } – MagicScan
{ SPANISH } – Ryuusei no Mafia
FAN LINKS: